The making of
The Water Mill
booklet
THE TYPE for The Water Mill keepsake was handset more than 30 years ago by F. Earl Bonnell, proprietor of the Bunny Press, a private press in North East, Pennsylvania.
Earl was a good friend and a positive influence, sharing his love and knowledge of letterpress printing with me during my early years as a printer.
A few years before Earl's death in 1988, I became the recipient of the assets of the Bunny Press. Much of the metal type collection was put in storage at that time, and has only recently been moved into my shop.
The type and engraved illustration for this poem sat on a steel galley in my barn, forgotten for 30 years. I believe that the typesetting of The Water Mill was Earl's final project before his passing, and until now, was never printed.
After discovering the galley of type, I cleaned and proofed it and read its meaningful, important and uplifting message. I decided that printing it would make a fine tribute to Earl, and serve as a commemorative of my 50 years as a printer.
I arranged the type into a booklet format and designed and typeset the front and back covers. The text type is 10 pt. ATF Garamond and the title is set with ATF Gravure and MS&J circa 1890 Nymphic Initials.
Printing this edition of 300 was done on my ATF Little Giant Model 6 cylinder press.
It's my opinion that The Water Mill is the most meaningful project done during my 50 years of letterpress printing.
- Michael Vickey, printer
   June, 2016
The Water Mill Booklet
$10.00 / Postpaid
A 19th Century poem with a profound message for living life to the fullest.
12-page booklet format.  Size: 4" x 5".
The edition of 300 was letterpress printed in 2 colors with handset type on heavyweight Neenah Classic Laid text paper.
Our note cards, note pads and coasters are available for purchase at our printing shop in North East, and soon will be available online.

You can also buy many of these items at the Grape Discovery Center in Westfield, NY.
The North East Chamber of Commerce office has some of our specially-printed cards and note pads at their retail room. North East, PA.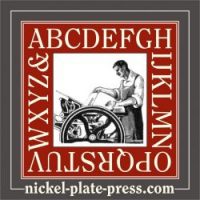 Nickel Plate Press at Vickey Graphics
Established 1969
Located in the Lake Erie Vineyard Country of Northwestern Pennsylvania,
15 miles east of Erie and 70 miles west of Buffalo, NY